By Amir Said
I had my share of fights when I was I kid. Most of them weren't over anything major. In fact, when I think about it, pretty much all of them were worthless. That is, all of them except for three. There are three fights in particular that resonate from my knuckle-game days. Two of which are not suitable for this topic, but one is: my fight over Lynn Swann.
In the late '70s, there was no other NFL wide receiver that football-lovin' kids like me wanted to be more than the Pittsburgh Steeler's Lynn Swann. "Double-8", (a name I had used for Lynn Swann, in homage to his jersey number, 88), was one of the first bona-fide NFL superstars to capitalize on the NFL's new found popularity, beginning in the late '70s/early '80s. Every kid in my neighborhood wanted to be Lynn Swann. More specifically, during our impromptu tackle football games (on grass, dirt, and/or concrete), some kids (like me) believed that they actually were Lynn Swann. If you were going long for the bomb, and the ball was high and off target, you needed only say aloud, "LYNN SWANN," and you would some how make an amazing acrobatic catch, just like Double-8 on Sundays.
Well, during one of those otherwise barbaric football scrimmages, I got into it with one of the other kids from around the block. As I think about it now, I guess he and I were heading towards a fight that year, anyway. However, at the time, I couldn't see the conflict bubbling. Sparing all the details of the fight itself, (although I should put out that it was unanimously considered that I won), I just wanna describe what the fight was about.
This cat and I came to the game, both with sweatshirts that were emblazoned with the #88. Anyway, the game's moving along, his team is scoring, we're scoring, it's a tight, hard fought game--as they usually were. Towards the end of the game, I'm streaking down the field, well, O.K., not exactly streaking, but I'm movin' pretty fast, (mind you, this was five years before I would be blessed with great speed)... So, down the side of the field I'm going. The other number #88 is running with me almost stride for stride. I look up and I see the ball in the air above us, then we both jump up for the ball at the highest point that each of us could, and both of us yell out, "LYNN SWANN." Don't know if I just plain dropped the ball, or if he interfered with me, or if he got his hands on the ball. But neither one of us caught it. And immediately upon this realization, I asked him the obvious, "How the fuck are you Lynn Swann, on defense?" Therein the fight ensued.
That's how I had a fight over Lynn Swann, the NFL star that I respected like no other, (that is until Walter Payton). To truly understand why I was willing to fight about Lynn Swann, you have to get a glimpse of my mind-state at the time. At that time, to me, Lynn Swann wasn't just a football star. He was one of the first black men that I was able to really look up to. By the time I was 11 years old, my father was gone. And Lynn Swann was there for me to look up to. Aside from his incredible football talents, Lynn Swann was an intelligent speaker. In fact, after he retired from the NFL, he soon landed a gig as a broadcaster for ABC Sports. Seeing Lynn Swann on ABC Sports-- then the "ESPN" of the '70s and '80s--made me feel happy and proud. I thought if anyone deserved that position, it was "Double-8."
But as I grew older and improved both athletically and scholastically, I started noticing something about Lynn Swann that disturbed me. Specifically, it was the way he talked and the way his voice sounded. Unlike Dr. J, my ultimate all-time sports hero, Lynn Swann sounded foreign to me. Let me make it plain, he didn't sound "black." Now, some "educated" and "informed" people might say that that's ignorant, or in the least not "politically correct." However, any "educated" and "informed" person who would say that knows damn well what I'm talkin' about and exactly what I mean...Needless to say my childhood allegiance to Lynn Swann quickly faded.
Fast forward to 2005, when Lynn Swann announced his candidacy for Governor of Pennsylvania, as a Republican. When I first heard this news, I was stunned. Listen, I don't align myself with one major political party or the other. But hey, the facts remain, the Republican mantra doesn't exactly seek to include blacks! And considering the turbulent era that Swann grew up in--an era of discrimination, volatile racial attitudes towards black Americans, and dramatic wealth disproportion--I was puzzled by his affiliation with the Republican party. However, I reasoned, for some people, money and class must trump all. Then I didn't have a single thought about Lynn Swann until now.
It's October 22, 2008, and I see Lynn Swann on the Rachel Maddow Show expressing his unflinching support for John McCain and the woefully unqualified Vice Presidential candidate, Sarah Palin. After Lynn Swann was finished speaking, there were three thoughts that immediately entered my mind. First, I thought about the fight that I had over Lynn Swann when I was a kid. Second, I thought how incredibly out of touch Lynn Swann is with the true class and racial conditions that exist in America. But the third thing that I thought about, the thing that struck me the most, was the fact that Dr. J, my ultimate childhood sports hero, still sounds "black," and Lynn Swann still doesn't.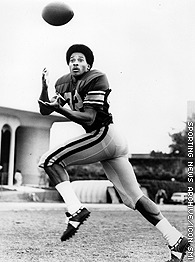 Lynn Swann, college days at USC. How soon we forget... From this, to...
This...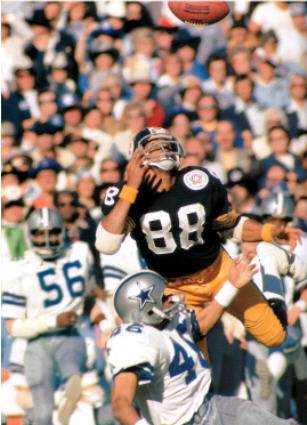 Lynn Swann, NFL days with the Pittsburgh Steelers. From this, to...
This...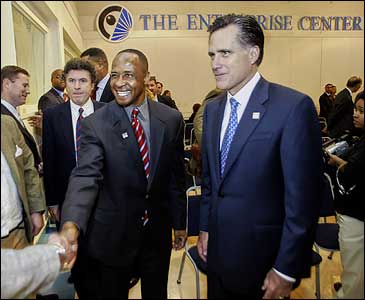 Lynn Swann, Republican days with Mitt Romney.
And just for a little perspective...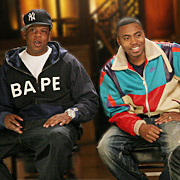 Still think "Black Republicans" was just a song?
How soon we forget...