Interview By Sa'id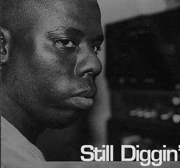 Buckwild came on the scene in 1994, the tail-end of Hip Hop-Rap's Golden era, with rapper O.C.'s classic, "Time'sUp." Over the next 11 years, Buckwild produced some of the most memorable and well-known bangers ever crafted. From Nas to 50 Cent, Buckwild's production always stays true to his sound and his love for Hip Hop-Rap music. Moreover, His widely comprehensive grasp of Hip Hop-Rap music and the current production movement is worth noting. He's seen it, he's done it, he hears and he sees it now. He doesn't front. Like a lot of these mis-guided "industry" producers. Instead, he's genuinely concerned with helping new production talent emerge. BeatTips.com caught up with Buckwild in his Bronx based recording studio. Check out the knowledge he dropped.
BeatTips.com: Do you use Timestretch?
Buckwild: Yeah, I do. Some songs, some beats I have it where I can stretch it. That's the one thing a lot of cats don't understand. Sometimes you buy records, and the time progression changes. Like the song starts going faster, or starts going slower. So if you got a song going, and it starts off at like 80 [BPM], then it goes to 81 and 82, you can't loop that. So you have to figure out a way to make it relevant. And that's where the 6 [Akai S6000] came in. The 6 was one of the best machines that hey invented for just straight Hip Hop.
BeatTips.com: Let's say you take a record and you throw it into the 6000, how did you make it the way that you wanted to, if a problem like that occurred. You know, if you wanted to throw it to a drum backbeat?
Buckwild: I would take the parts that I need, and I would do a BPM match… There's so many things that the Akai S6000 does… I could take this one part right here and make it one part of the tempo that I need. It has a lot of little secrets, but you just have to have the patience to get into it.
BeatTips.com: So what if somebody says to you, 'listen, you're using the 6000 and you're using Akai MPC 4000 to sequence. Why don't you just throw everything in the 4000?' The 4000 is a monster!
Buckwild: The 4000 IS a monster! But if it's certain things that I need to doctor up with the 6000, I'll go back to the 6000. But everything now, I use with the 4 [MPC 4000]. The 4 is ridiculous! You can put so many different programs in there and change up so many ways that people don't even understand. Like I know a lot of people who don't use the 4. Only people that I know use the 4 right now might be me, Just Blaze, Lord Finesse, and Rsonist, from Heatmakerz… Not too many people. Everybody uses the XL [Akai MPC 2000XL] or they use Reason and all this other stuff. But the best thing about the 4 is that you can doctor your sounds how you need to.
BeatTips.com: How do you sample drums? Do you process your drums? Do you sample dry?
Buckwild: I sample all of my drums dry. But I doctor (tweak, i.e. EQ, etc.) all of my drums in the 4. The one thing that dudes gotta understand is that, we all pick machines… even Minnie [producer, Minnesota]. Minnie use the ASR [Ensoniq ASR-10], but we all have a certain technique for what we do. You can give 10 dudes the same record, that don't mean we all are goin' to do it the same way. Like we all have a vision of how we like our drums. I like my drums tight. So I'll do whatever I need to inside here [he points to MPC 4000] so that way, when I get my record to an engineer, if I can't mix my record, at least everything is there. I've known a lot of engineers that have been like, "I love mixing with you because you make my job so easy, everything sounds the way it should be; I may have to put on a little reverb, but everything sounds good." Hearing that, that's a blessin'. I'm like, "cool", that let's me know that I must be doing something right.
BeatTips.com: Do you sample your drums from vinyl?
Buckwild: Vinyl… I'm Ol' School (laughs)… Vinyl!
BeatTips.com: What about online companies that sell sounds? Many people are going online, downloading WAVs and such. But a lot of drum sounds now stand out too much.
Buckwild: Yeah! You know what it is. You know what people forget to realize? When you're turning instruments, you also have to tune your drums to your music. And a lot of dudes don't understand that. So sometimes you hear drums and they may stick out, you know, somebody might say, "I want this right here to be dominant." But I think when you're mixing your records there needs to be balance, but sometimes that's on your engineer also.
BeatTips.com: Do you have individual rules, you know, how you approach your kicks, how you approach your hats?
Buckwild: It depends on if I'm using a loop, or if I'm using live stuff. Every beat is different. Like on some records, sometimes I put reverb on a kick just to give it an effect, but I'll put something behind that kick to still make it knock. I'm not saying that you want to try to be so different, but you want to try to be creative. It's like, O.K., I'm taking a loop but I'm making this loop my record.
*Buckwild's Music Production Set Up: Akai MPC 4000, Akais S6000, Yamaha Motif 6, Pro Tools TDM