By Amir Said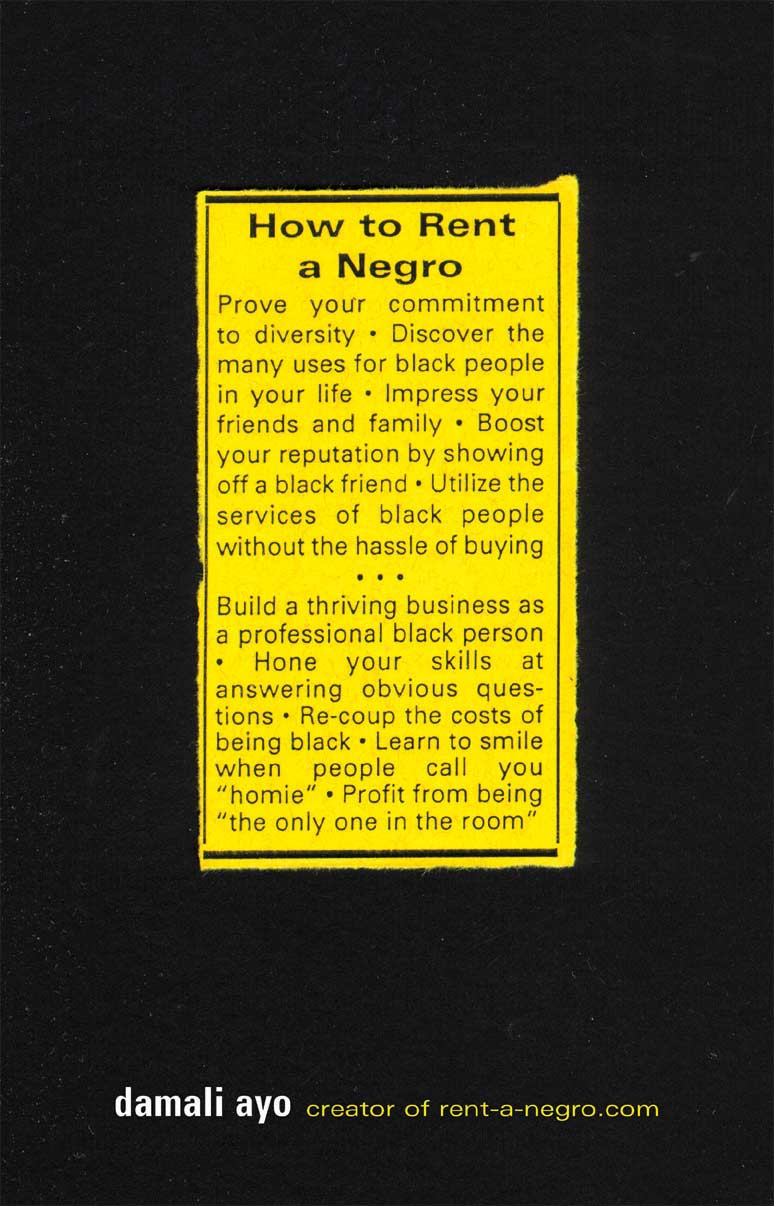 There's black, white, and in between. When dealing with race and questions of self-identity, it's the "in between" where you will, at times, find some of the most engaging art, some interesting cases of valuable knowledge, and, unfortunately, some of the most absurd instances of ignorance. The book, How to Rent a Negro, and its subsequent commercial internet property, "rent-a-negro.com," are a curious combination of knowledge, ignorance, art, and good old fashion American entrepreneurship.
When I first learned of these two rather alarming entities, I automatically assumed that the architect of such provocation had to be an "educated black person" of some sort. Alas, I was right. damali ayo (she insists on presenting her name in lower case) is indeed educated and also artistically informed. I'm somewhat aware of her work, and I applaud her for her consistent pursuit to encourage (or rather provoke) realistic dialogue and discourse on race relations. Hence, in the following piece, I will not be attacking ayo or even her enterprises. Instead, I'm only interested in how such enterprises might come about. More specifically, I want to explore the back story of so-called "educated black people," and contrast it with their current narrative.
Before I proceed, here, I must define what I mean by "educated black person." The phrase itself has a deep and long history in black American culture, a history that is far too complex to handle in this piece. And although I will not drag anyone through that particular history, I would, however, like to draw attention to only one of the two main groups that routinely receive the "educated black people" moniker. This First Group, if you will, are composed of black Americans who seek to resolve the question of their own black identity by becoming what I like to call "art-textual experts" on black identity. This group of black Americans fall into two categories: (1) those who grew up socially amongst whites, (i.e. did not grow up around many blacks, if any at all); and (2) those who grew up among blacks of upper-middle class socio-economic standing. (Suffice to say, some members of the first group of "educated black people" fall into both categories.)
Also, before I proceed with the crux of my exploration, I think it is necessary to introduce one more context for reading this piece: the fact that the "educated" description of white people is almost never used in the same context as it is with blacks. You might regularly hear/see the term "highly educated" in conjunction with the description of whites, but that is because it is somehow naturally assumed that white people are educated. Thus, the use of the adjective "highly," in this case, is just a way to distinguish a higher degree of a "naturally assumed education." Think about that...
Now back to the exploration at hand…
The typical story of the "educated black person" of the First Group goes something like this. Having grown up, regularly co-mingled, and interacted with whites, the "educated black person" goes on to college (as is expected of someone of their socio-economic standing). At college, the First Group soon gains a form of "cover." For students of all races and ethnicities, college usually provides a level of physical and emotional distance from the only family and friends they've ever known. So it is understandable that many of these students "discover" things about themselves--that is to say, things about their ethnic/racial heritage. For many blacks with a white socio-educational background, this discovery often takes place in the form of what I call a "black identity awakening."
There are two levels of "reorganization" that are central to the black identity awakening that some blacks of white socio-educational backgrounds experience. There's "social reorganization" and then there's "scholastic reorganization." Having gone, in some cases, as many as 18 years without many black friends (if any at all), this First Group "educated black person" reorganizes their social structure. This often includes a more pronounced adventure into and appreciation for black music (in particular hip hop, jazz, and reggae) and other Afro-centered art forms. Also, almost always at the core of this social reorganization is the notion of friendship and romantic (sexual) interaction with other blacks, (something considerately "new," given their social backgrounds prior to college). Indeed, having had a limited number of black friends (if any at all), this First Group of "educated blacks" now actively pursue both friendships and romances with other blacks.
In the scope of the "scholastic reorganization," some within the First Group of "educated black people" aim to learn more about the cultural history of black Americans as well as other blacks throughout the African diaspora, while seemingly increasing their own sense of black identity. This process usually involves taking more elective courses related to African American history (aka Black Studies). It also includes an increased interest in many black cultural and community events.
After completing their undergraduate studies and obtaining a degree, reflective of either their broader or specific interests, members of this First Group of "educated black people" typically head off to graduate school. After obtaining an advanced degree, often at some point through an Ivy League institution, some members of this First Group of "educated black people" eventually venture into the market place, where they quickly (typically) learn to market what? Yep, their so-called "expertise" at intimately knowing both black and white people in a way that most people do not or could not. But, no matter how interesting existing "in-between" worlds may be, what I find more engaging is the level of acceptance each world actually affords the so-called "educated black person" of the First Group.
Here, I want to return your attention to the book, How to Rent a Negro, and it's companion website, "rentanegro.com." I have one sobering question: How much outrage would such a book (title notwithstanding) and website cause, if its creator were white?
Finally, to be fair, I am certainly not making the case that all "educated black people" are propagators of the kind of ignorant satire that damali ayo has seemingly orchestrated. Instead, my exploration (brief as it is in this article) of a select group of "educated black people" has really been an attempt to examine just how a black American could come to create a "product" that is so incredibly insensitive and degrading to all black Americans. What I've concluded is this. Somewhere in the educational and social processes of the First Group of "educated black people," the wires between dignity, pride, integrity, self-respect, common decency, "Booker T. Washingtonism," reckless opportunism, and capitalism get crossed. For most "educated black people," these separate spheres of influence usually reconcile properly. That is to say, dignity, self-respect, and common decency move to the forefront, while reckless opportunism and capitalism fade to the back. That being said, however, there is a small percentage of "educated black people" for whom the aforementioned reconciliation is carried out improperly. On that note, here's some more free press for damali ayo (again she prefers her name in lower case)...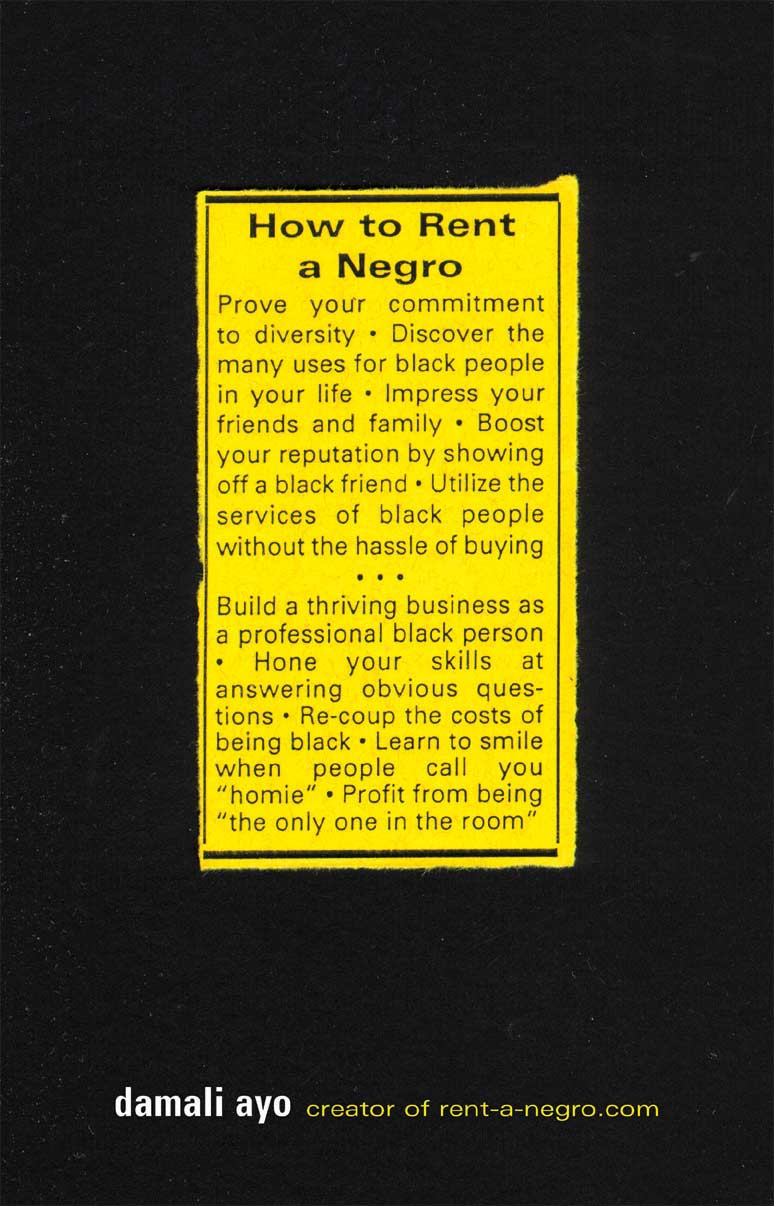 How to Rent a Negro by damali ayo
damali ayo on the Bill O'Reily Show
You decide... Is it engaging knowledge, is it provocative art, is it plain ignorance, or is just entrepreneurship disguised in satire?